The obligation of the operator to carry out regular maintenance and repairs on the steam boiler system arises from the statutory regulations for operation of a steam boiler system and the manufacturer's specifications.
Unfortunately the inspection of the system for monitoring purposes which is scheduled every day or every 72h is often simply regarded as a chore. Maintenance and service should not be neglected purely for safety reasons, it goes much further than this and should be regarded as an important system optimisation task.
Many operational improvements can only be made as a result of careful observation during actual operation. Even small changes to the sequence of operations, weekly utilisation of the system and the necessary pressure or temperature level can mean that the system is no longer running under ideal operation conditions. Several of the adjustments that must then be made to optimise the system can be implemented with very little investment expenditure.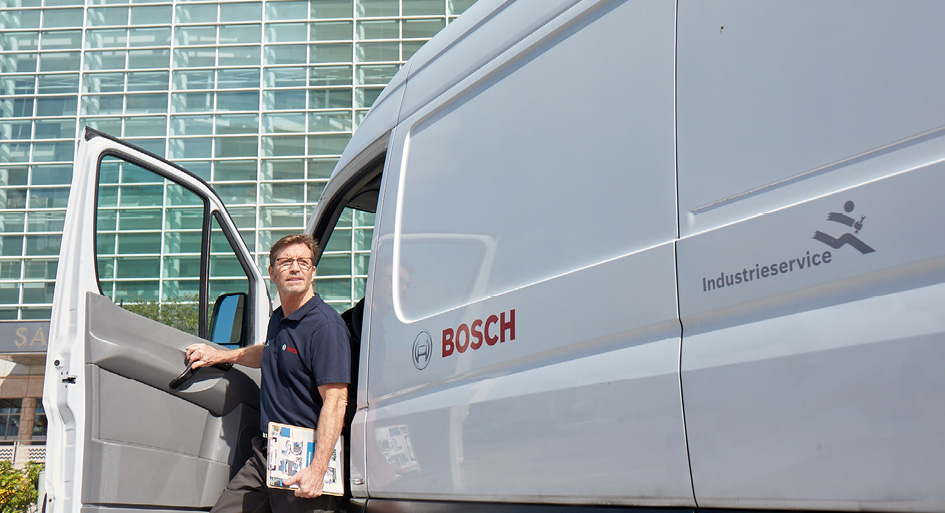 Industrial Service
An energy inspection of existing systems is recommended at regular intervals. Even the simplest of measures, e.g. modification of control parameters, can be hugely effective.
It is recommended that system maintenance and re-adjustment be carried out every three months, or every six months at the latest. The operator benefits from the following improved characteristics of his system:
Consistently high energy efficiency
Long service life
High degree of failure safety
Maintenance
Steam boiler systems must be analysed and checked within 24h or 72h by the operating personnel. In addition to regular maintenance by the boiler attendant, a steam boiler must undergo one comprehensive inspection and one smaller-scale inspection annually.
Within the scope of a maintenance service agreement, our customer service engineers carry out inspection and maintenance of the boiler, combustion, control and water treatment system through to the complete boiler house 2 or 4 times a year. This increases the operational reliability and availability of the system, fuel consumption is optimised and production downtimes avoided. If required, Bosch Industrial Service can also carry out all necessary monitoring work during the prescribed 72h inspections. This can be carried out individually depending on the requirements in each case, either on a one-off basis or continuously as part of a maintenance service agreement.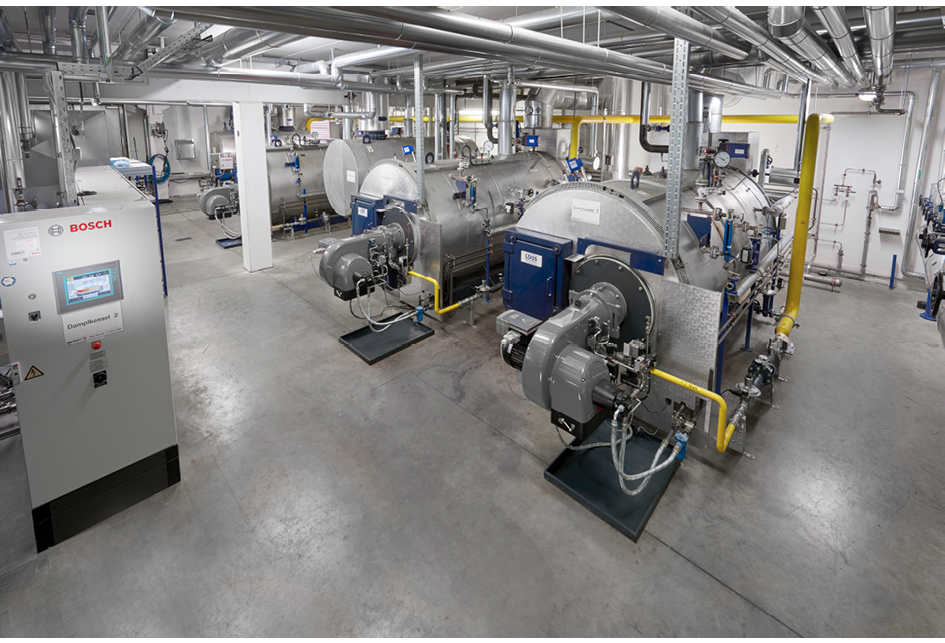 Modernisation of an existing system to reflect the latest standards
Providing they are well maintained, steam boiler systems can operate reliably for ≥ 30 years. Owing to the following further developments more or less every steam boiler system that is 15 years old or more requires modernisation:
System and boiler components (e.g. frequency control, O2 and CO control, feed water cooling, condensing technology)
Control technology (e.g. sensors, programmable logic controllers, control and monitoring logics, automation system and telecontrol technology)
Additional modernisation is necessary due to increasing requirements in the following areas:
Environmental protection
System efficiency
Regulations and laws (e.g. emissions from combustion systems, obligation to carry out energy management or audits)
In addition, operating companies and their steam consumers have also developed considerably over time to the extent that boiler systems are now normally operated in a manner which is vastly different to the original design intentions. An investigation carried out by the Federal Association of the German Heating Industry (BDH) has revealed that a considerable modernisation backlog exists in the area of heat and steam generation plants. More than 80% of existing systems in Germany are run inefficiently. Energy efficiency can be increased by 20 – 30% by taking appropriate measures.
Retrofitting to existing systems can also be simply and efficiently carried out using our modular system components. In many cases the modernisation measures amortise within 1 – 2 years. As a rule, all the efficiency-enhancing measures described can also be retrofitted.
The following table provides information on which measures are particularly suitable for retrofitting as they can be easily integrated with minimum disruption to operations. The table also provides information on which savings can be achieved with the respective measures. With appropriate planning, combining individual measures can lead to additional synergic effects.
Very easy: low planning expenditure with no changes to the existing control system and can normally be implemented during operation with no or very short interruptions
Easy: more planning required, can be retrofitted in the control cabinet and involves short interruptions to operations
Complex: more extensive conversion work involving interruptions to operations
Especially suitable for retrofitting

Potential savings

Implementation expenditure

Replacement of defective or missing insulation
(e.g. valves, inspection apertures)

3 – 8 % fuel

Very easy

Vapour cooler

≤ 0.5 % fuel

Easy

Feed water cooling

≤ 1.8 % fuel

Easy

Expansion and heat recovery module

≤ 1.0 % fuel
Freshwater savings
Waste water reduction

Easy

Complete demineralisation

1 – 5 % fuel

Easy

Controlled exhaust vapour valve

0.5 – 1 % fuel

Easy

Burner replacement to adjust output

≤ 8 % fuel

Easy

Combustion control, O2 and CO control

≤ 1.0 % fuel

Easy

Speed control, fan

≤ 75 % electricity costs

Easy

Automatic status monitoring and control optimisation

1 – 3 % fuel

Easy

Expansion steam in the condensate

1 – 3 % fuel

Easy

Flue gas heat exchanger

5 – 7 % fuel

Easy

Condensing heat exchanger

5 – 7 % fuel

Easy

Air preheating

1 – 3 % fuel

Complex

Conversion from oil to gas operation,
use of multi-fuel combustion systems

≤ 25 % costs,
≤ 30 % CO2 emissions

Complex

High-pressure condensate system

5 – 12 % fuel

Complex
Retrofitting measures with corresponding potential savings