Water disposal
The conditions for introducing waste water to the public sewer system are normally defined by the local authorities. In Germany, the pH value of the waste water is normally between 6.5 – 10 and it is normally introduced into the sewer system at a temperature of 35°C.
Hot waste water
The hot pressurised waste water from the boiler during bottom blowdown and surface blowdown must be cooled before it is introduced into the sewer system. This takes place in a so-called bottom blowdown vessel into which hot waste water is admitted via two connectors (one connector for waste water over and under 100°C respectively). Expansion steam accumulates in the vessel which is discharged through the roof into the atmosphere. The remaining waste water is cooled to the permissible temperature at which it can be introduced to the sewer system by adding cool water.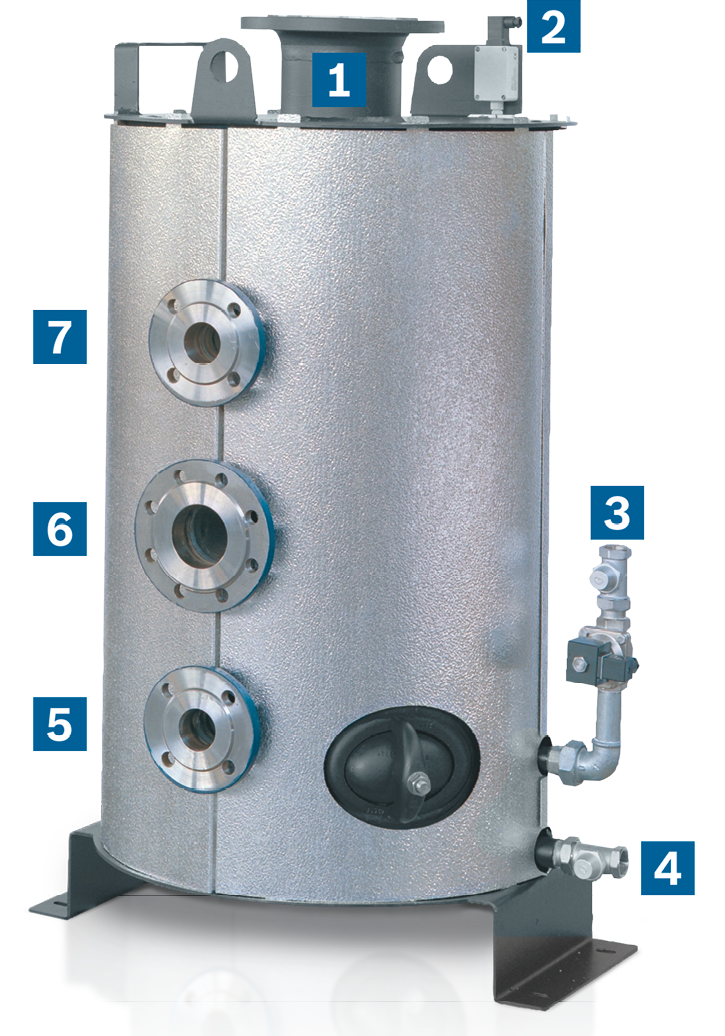 Blowdown expansion and cooling module BEM
Through-roof expansion steam pipe

Temperature measuring sensor

Connection for cooling water (incl.
temperature control valve)

Outlet for drainage

Connection for waste water <100°C

Drain to sewer

Connection for waste water >100°C
As waste water carries a great deal of energy which can be used at temperatures of around 100°C, use of a heat recovery module should be considered, especially in view of the low amortisation time.
Water disposal – flue gas condensate
Flue gas condensate forms from time to time when starting the boiler system from the cold state and continuously during utilisation of calorific value with a condensing heat exchanger. This condensate is acidic (ph value < 4) and, to comply with the conditions for introduction of waste water into the public sewer system, must be neutralised before being discharged into the sewer.
Depending on the quantity of condensate, systems containing neutralisation granules or liquids are used for this.

Flue gas condensate neutralisers (left: granule-based system, right: liquid-based system)