The super heater is used to heat the water vapour to above its evaporation temperature. This steam is referred to as superheated steam or hot steam. The steam temperature is above the saturation temperature.
Superheated steam is mainly used in complex extensive steam networks used to drive steam engines and steam turbines that generate power or for the heating of power plants. With shell boilers, the super heater is mounted on the front reversing chamber downstream of the first smoke-tube pass. Depending on the pressure stage of the boiler, superheated steam temperatures of 100K above the saturated steam temperature and up to a maximum of 300°C can be reached.
Fig. "Diagram showing states of water or steam in temperature-enthalpy graph (T-h diagram) with the technical designations of the surfaces"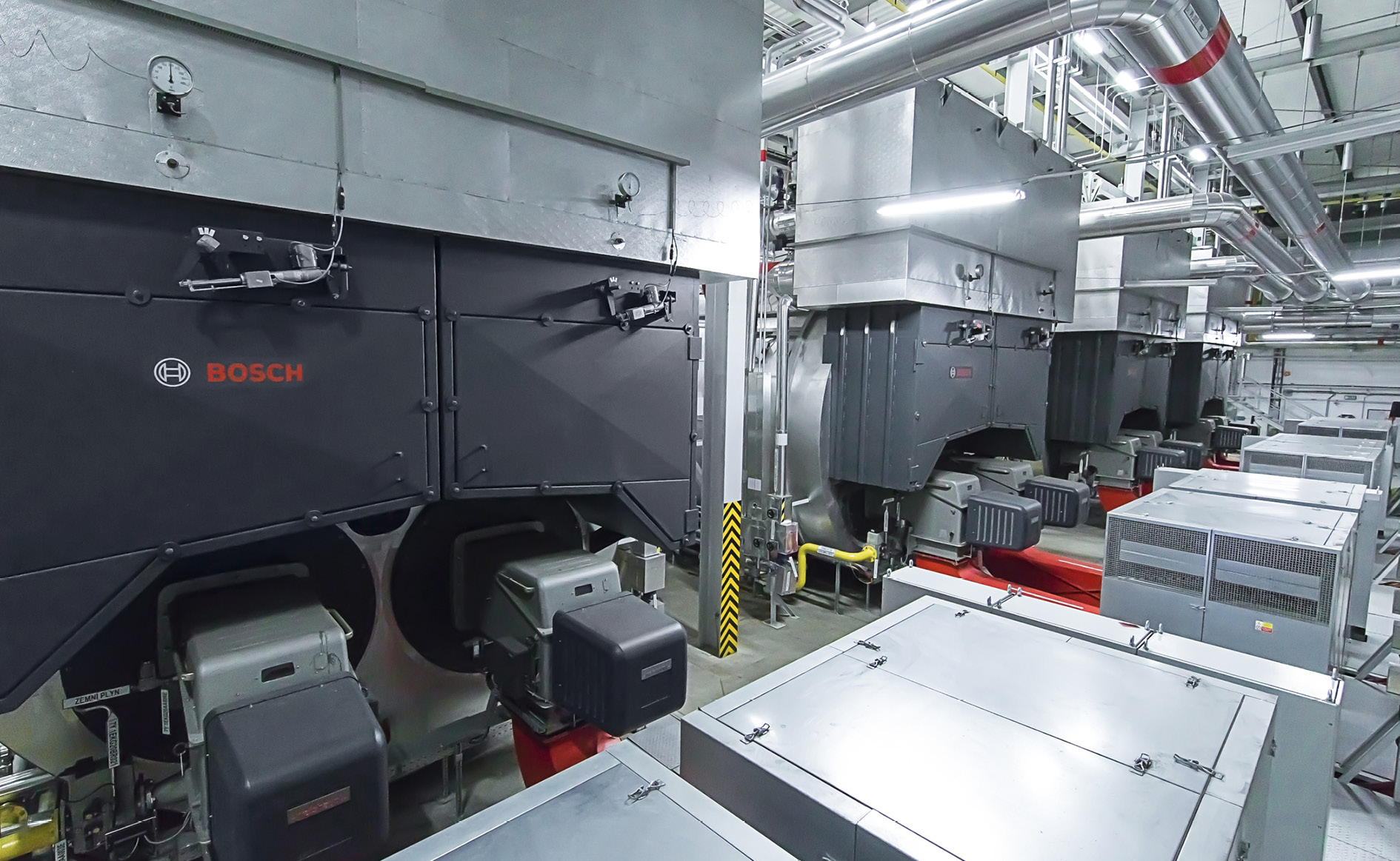 Double flame-tube boiler with mounted superheater on top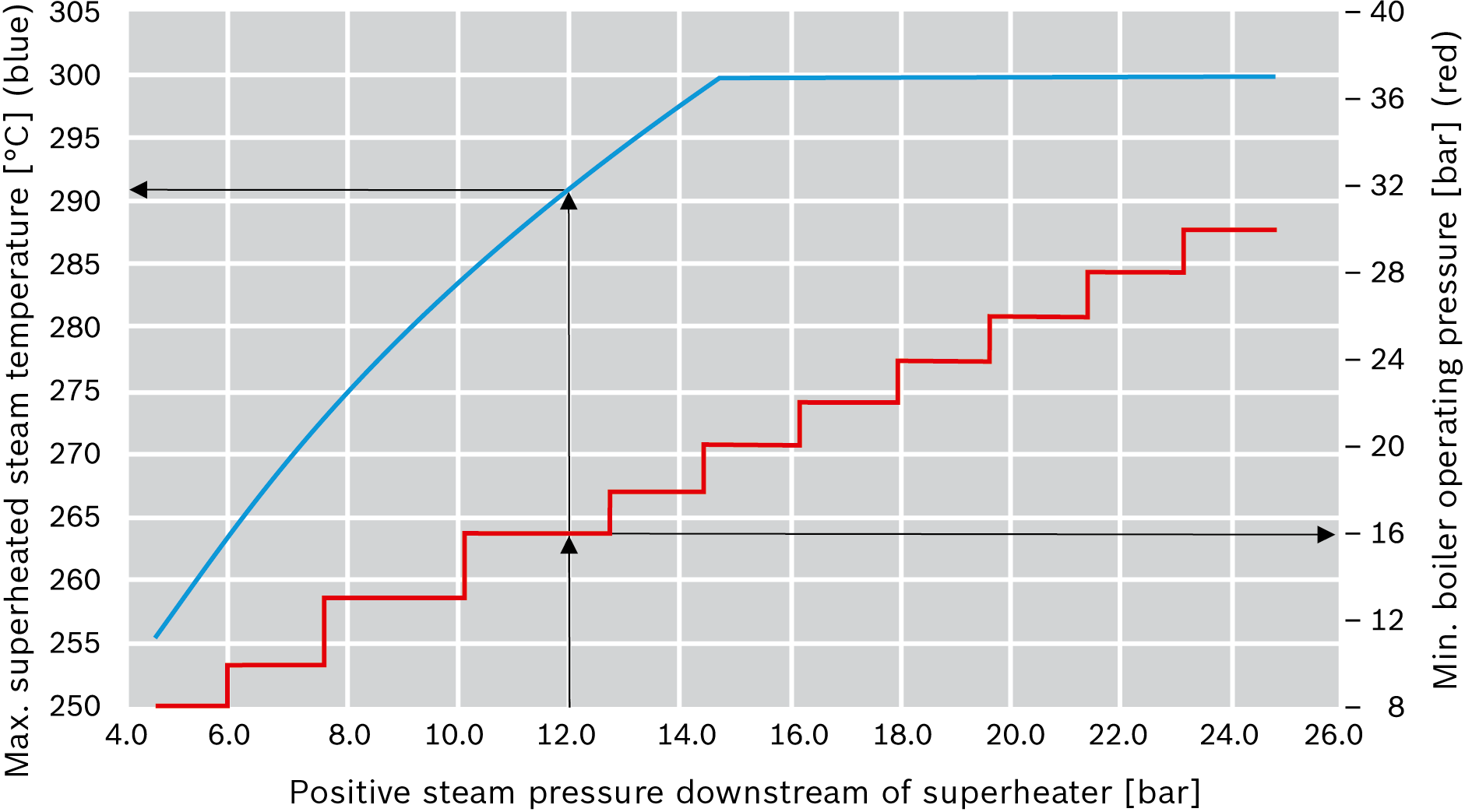 Possible superheated steam temperatures and the minimum required pressure stage with reference to the required steam pressure downstream of the super heater
| | | | | |
| --- | --- | --- | --- | --- |
| | Max. superheated steam temperature [°C] | | | Min. boiler operating pressure [bar] |
Example:
Steam pressure downstream of super heater = 12 bar. Results in: maximum possible superheated steam temperature of 291°C and minimum boiler pressure rating of 16 bar
Construction
The super heater module is mounted on the front reversing chamber. A partition with a flue gas control flap for bypassing of flue gases from the first to the second smoke-tube pass is installed in the front reversing chamber. A fully automatic operation therefore takes place that ensures a controlled superheated steam temperature on the flue gas side. The super heaters are designed to specific customer requirements in order to achieve the superheated steam temperature in a specified boiler load range (e.g. 50 – 100%).
The super heater is started dry at the lowest load. The combustion output is gradually increased once a partial flow of steam through the super heater occurs. Operation takes place once the superheated steam temperature and combustion control has been enabled. To be able to ensure the superheated steam temperature and avoid deposits in the super heater on the water side, demisters are used to reduce the residual steam humidity.
Fig. "A demister, as installed in the steam boiler below the steam feed"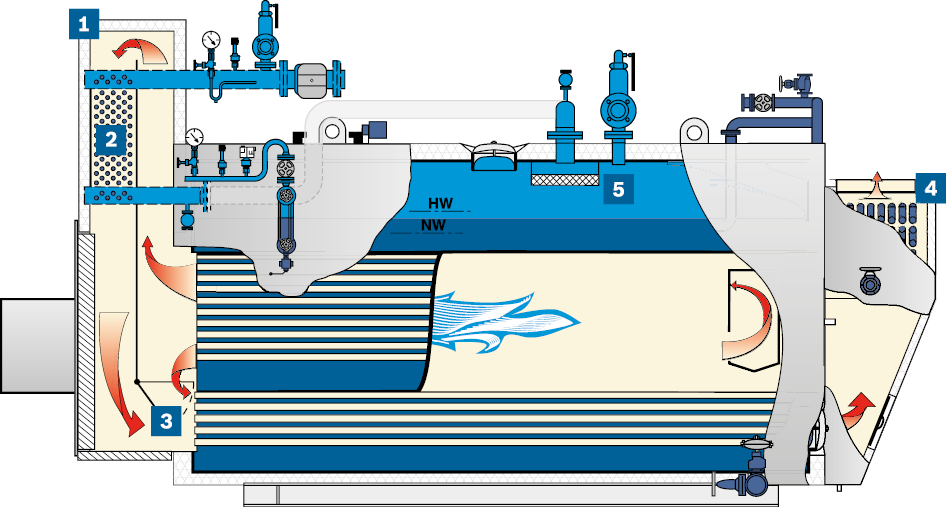 UL-S with mounted super heater
| | | | | | | | |
| --- | --- | --- | --- | --- | --- | --- | --- |
| | Super heater module | | | Superheated steam temperature control damper | | | Saturated steam feed at boiler with demister |
| | Super heater tube bundle | | | Economiser | | | |