System Control SCO for control of boiler system
The System Control SCO combines the controls of steam boilers and/or hot water boilers as well as individual module controllers into a higher-level management system and opens up a wide range of new possibilities. The individual Boiler Control BCOs, any additional controls and the SCO communicate via a high-performance bus system. This dispenses with the need for complex wiring work and isolation of signals. The connection to higher-level visualisation and automation systems can be established via various automation system protocols, e.g. Profibus, Modbus TCP/IP and BACnet. As an option, the system can be monitored remotely via MEC Remote.
Construction
High-performance programmable logic control with operator interface as TFT colour display with touch-screen.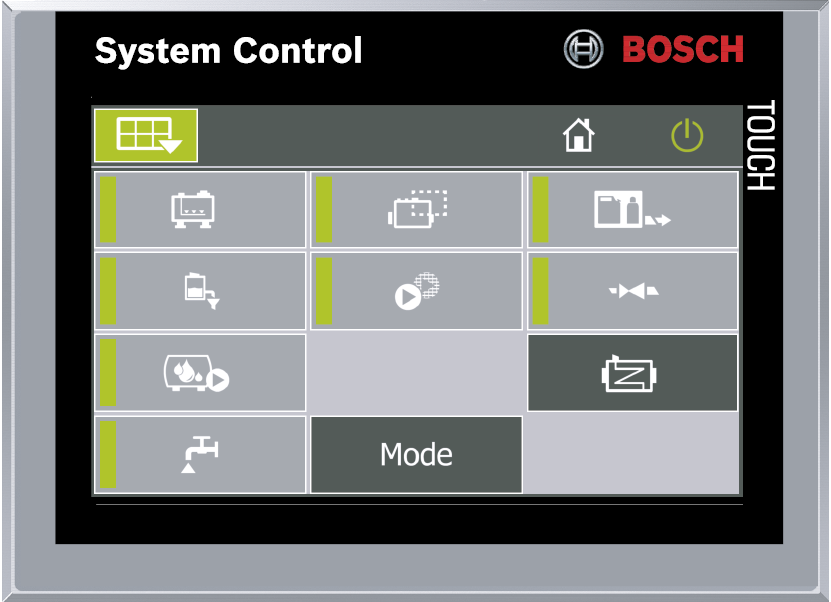 Cross-component System Control SCO – example of display
Equipment
Sequence control of multi-boiler systems
Integration of water analysis
Integration of deaeration systems
Integration of condensate systems
Integration of foreign matter monitoring systems
Integration of oil supply systems
Extremely wide range of pressure and temperature controls
Reserve pump control with automatic changeover for several boilers
Benefits at a glance
Straightforward interfacing with higher-level visualisation and automation systems
Integrated monitoring and safety functions to prevent maloperation
Comprehensive storage of operating parameters and system status messages
Interfacing with MEC Remote possible: operating parameters and system status messages can be accessed via an optional VPN router
Intuitive operation using graphic symbols and representations on touchscreen displays
Water Control WCO for control of water service module
This particularly low-cost control for the water service module offers all basic control functions for full or partial deaeration systems.
Construction
The programmable logic controller is equipped with a user-friendly text and graphic display and control keys. It is integrated into a control cabinet and permanently mounted on the water service module complete with wiring to the sensors and actuators.
Equipment, standard functions
Pressure or temperature control of deaeration system
Level control of deaeration system (multi-step or stepless including boil-dry protection
and high water function)
Display of measured value curves (pressure or temperature, level)
Equipment, optional
Temperature control of blowdown, expansion and cooling module BEM
Spray pressure monitoring for spray-type deaerator systems
Temperature indicator of feed water vessel
Activation of exhaust vapour valve to avoid exhaust vapour losses in standby mode
Benefits at a glance
Attractive price-performance ratio for control of complete water service module
User-friendly operation via text and graphic display with control keys
Data transfer via Ethernet or Profibus DP
Master Energy Control MEC Remote for remote maintenance
The Bosch MEC Remote (Master Energy Control) remote maintenance system is the replacement for the former teleservice for industrial boilers. This provided Bosch Industrial Service with direct support access to boiler systems.
The new MEC Remote now also allows operators to conveniently and reliably monitor their systems remotely using standard Internet-ready terminal devices.
MEC Remote is therefore the ideal solution for companies:
where supervisors and relevant personnel cannot be on site continuously
with multi-boiler systems that are subject to mandatory oversight
with standby service at the weekends
Bosch boiler controls are compatible with commercially available automation systems. MEC Remote can also be used with systems without automation system interface.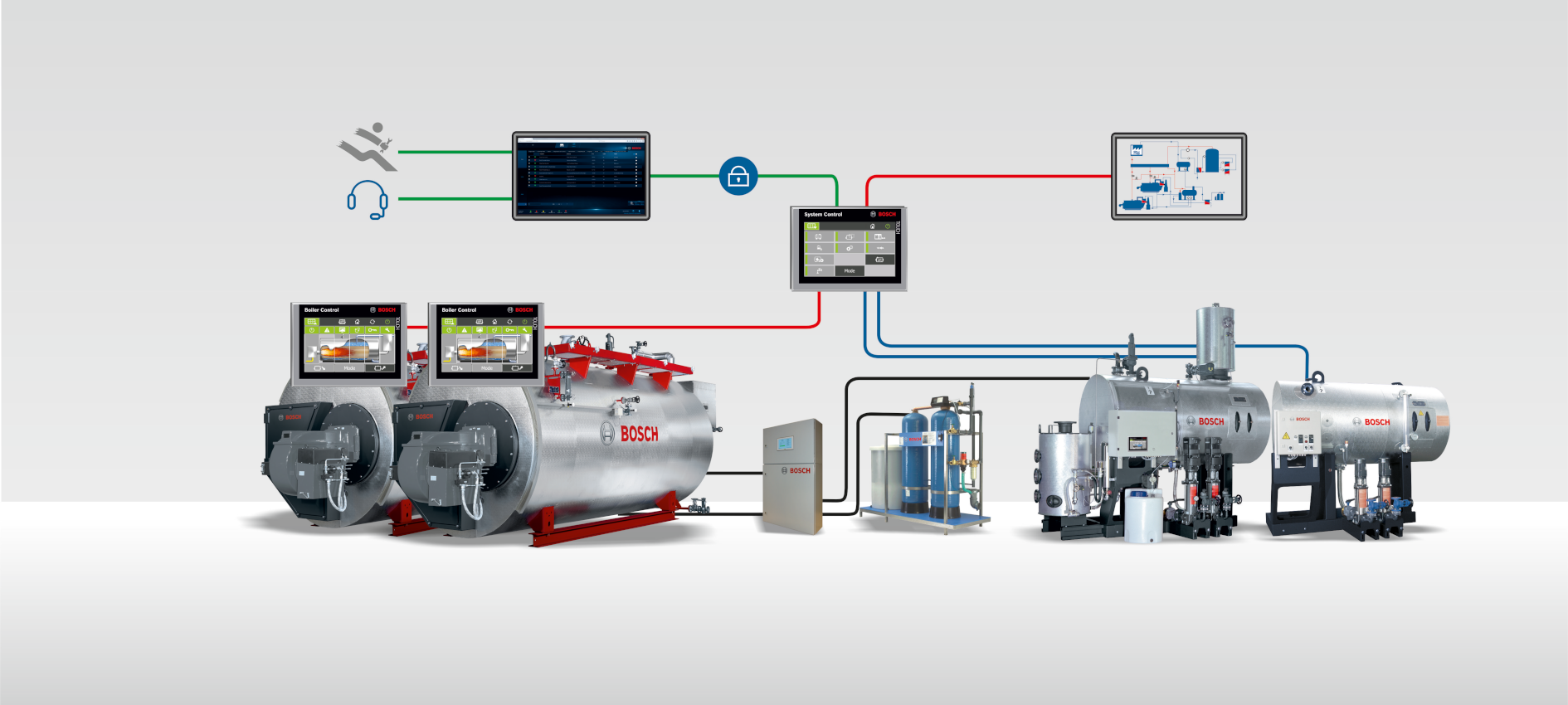 MEC Remote – remote access for maintenance and visualisation of system data
Thanks to a general map several systems around the world can also be monitored at the same time. In combination with MEC Optimize, the operator can on request be automatically notified about abnor-malities and faults in the form of a short message to his mobile phone or e-mail. This significantly reduces the supervision effort for systems with high reliability requirements (e.g. during continuous operation).
Brochure: Controls and connectivity
A further benefit for operators is the optional remote support which is available from Bosch Industrial Service. The Bosch experts can perform advanced parameter settings, programming (PLC) and troubleshooting directly via the remote maintenance system. When components fail, the service experts can analyse and narrow down the cause remotely then travel with the right equipment to the operating location. This can reduce boiler downtimes and service costs to a minimum.
One of the most important requirements for the remote connection is maximum security. This is ensured by the ingenious role concept which controls the access rights and authorised control interventions. The remote access itself has a multi-level security concept. The external data connection can be enabled or disabled in the boiler house on the hardware side via a key.
In addition to logging in with username and password via encrypted data transfer (https) a mobile TAN procedure is used. As is the case with online banking, the access data is sent on the operator's mobile phone. Instead of being stored in a Cloud, the operating data of the industrial boiler is stored locally on the system. The security concepts for MEC Remote were devised by ESCRYPT GmbH. A regular security audit is performed by Cirosec GmbH.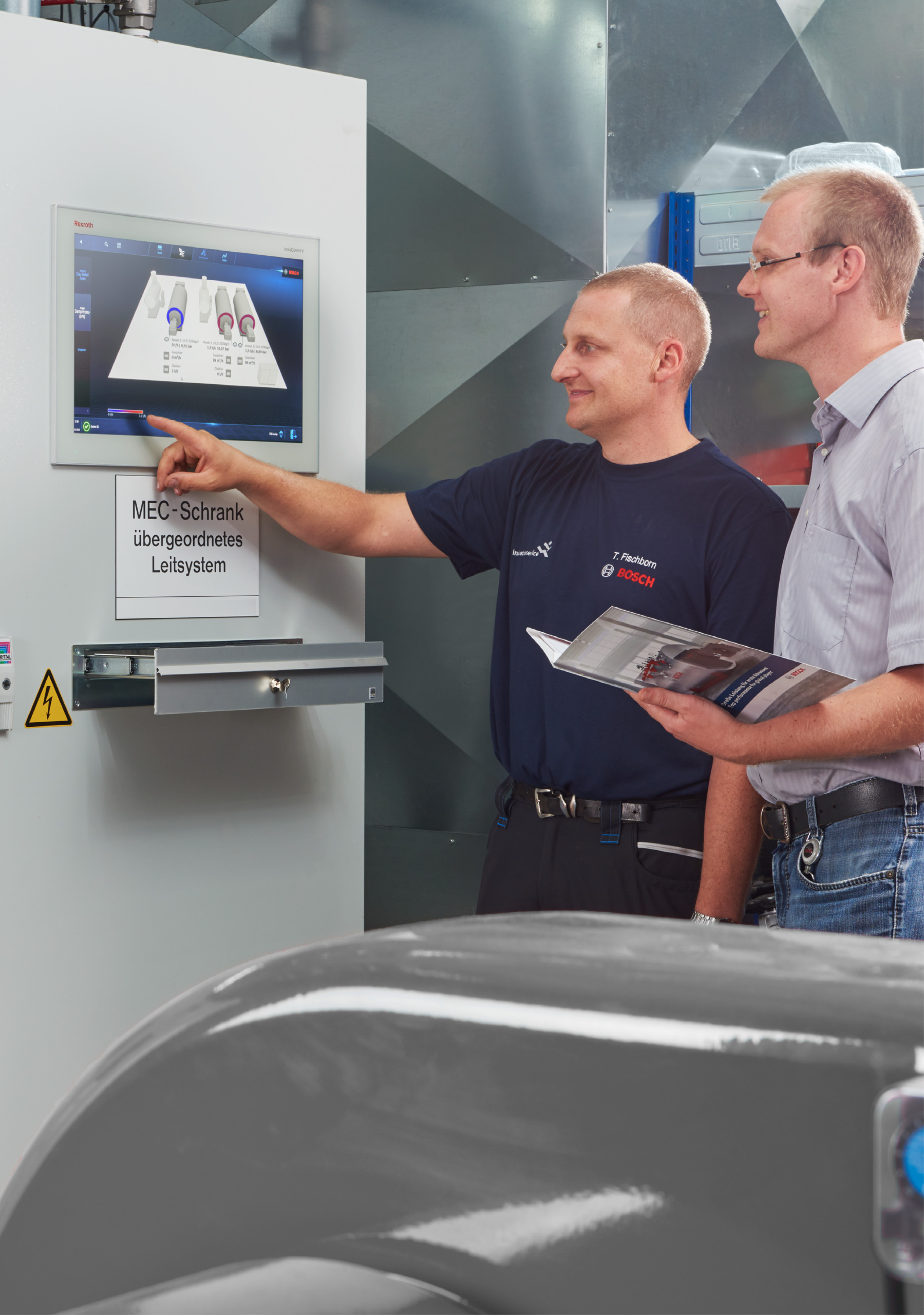 SCO and MEC System Control cabinets