Exhaust vapour
In thermal full deaeration systems in principle, exhaust vapours, also referred to as waste steam, accumulate. The exhaust vapours are necessary for removing harmful gases such as oxygen (O2) and carbon dioxide (CO2) from the feed water vessel. In many boiler rooms this is evident from the steam plumes that normally exit via the roof.
As the feed water vessel is normally pressurised all year round to prevent oxygen permeation and corrosion problems associated with this, exhaust vapours are continuously produced. Exhaust vapour is also produced at the times when the boiler is in standby mode.
Two possible options are available for reducing the exhaust vapour losses: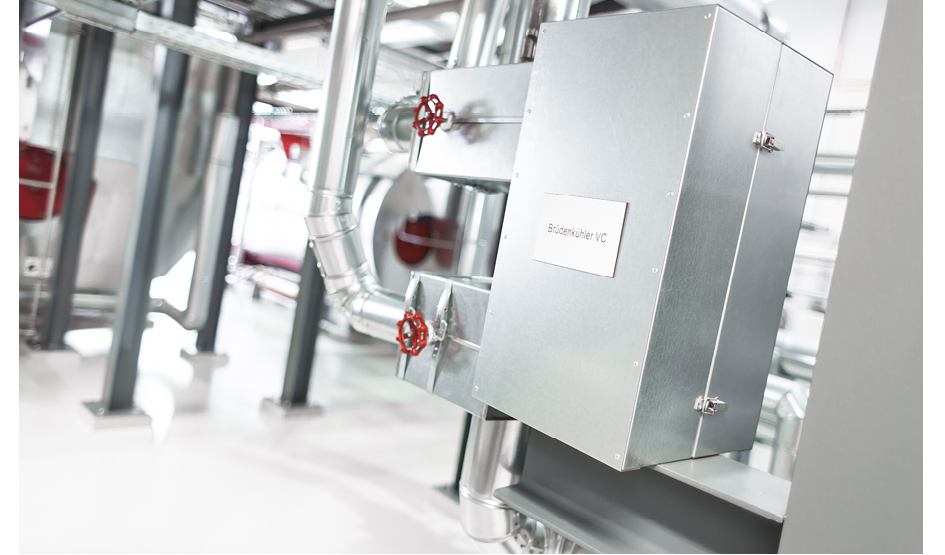 Vapour cooler
Controlled exhaust vapour discharge valve
The controlled exhaust vapour discharge valve prevents the outward flow of exhaust vapour during phases in which deaeration is not necessary.
This can save huge quantities of energy, especially in systems with a large percentage of downtime, e.g. with two-shift operation. The opening duration of the exhaust vapour discharge valve can be matched to the actual demand by analysing the water continuously, which also includes measurement of the oxygen concentration in the feed water vessel. This also reduces the losses.
Vapour cooler
The water in the exhaust vapour condenses in the vapour cooler. The thermal energy produced when condensing and cooling the exhaust vapour to ≤35°C is used to heat up the make-up water and thus reduces the quantity of required heat-up steam at the feed water vessel. As the condensate that accumulates in the vapour cooler is rich in oxygen and carbon dioxide and has a very low pH value, it is discharged via the bottom blowdown vessel into the sewer. In addition to heating up the make-up water, it can also be used for process water heating or central heating backup.
As the deaeration system operates more or less continuously, the amortisation time is almost invariably less than a year. A vapour cooler can also be easily integrated into existing systems.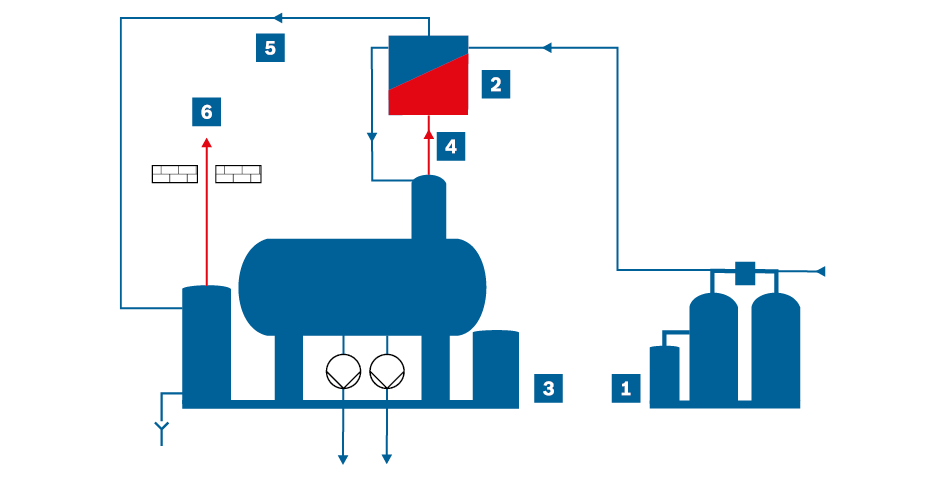 Schematic representation of the vapour cooler used for thermal full deaeration (highly simplified representation)
| | | | | | | | |
| --- | --- | --- | --- | --- | --- | --- | --- |
| | Water treatment module WTM | | | Water service module WSM-V | | | Exhaust vapour condensate (roughly 35°C) |
| | Vapour cooler VC | | | Exhaust vapours (103°C) | | | Via roof to the atmosphere |