Combined heat and power
Using a combined heat and power system for commercial or industrial applications can provide a feasible alternative to pure process heat generation or thermal heat generation.
A gas turbine or combined heat and power unit generate mechanical energy (power) which is converted to current via a generator. The hot flue gases which are normally at a temperature of 300 – 600°C are subsequently fed to a waste heat or 4-pass boiler to generate steam or hot water (heat).
A 4-pass boiler is a conventionally-fired 3-pass boiler with an integrated additional fourth smoke-tube pass and can be designed as a steam boiler or hot water boiler.
Thanks to the integrated combustion, peak load boilers that are usually required when using heat recovery boilers only can normally be omitted. This greatly reduces investment costs, space requirements and equipment expenditure. The thermal output obtained through introduction of the waste heat accounts for up to 15% of the total rated output of the boiler. This is usually absolutely sufficient to cover the base-load output in relation to the heat energy demand.
Product: UNIVERSAL heat recovery steam boiler HRSB
However, if the base-load output is significantly higher, using a peak load boiler in combination with a pure waste heat boiler may prove to be a more suitable alternative.
Whatever the case, it is recommended that the power rating of the unit producing the waste heat (gas turbine/CHP module) is selected so that the thermal energy acquired from the flue gases does not exceed the base-load output of the heat consumers. This ensures that power can be generated continuously at the most economical operating point without having to divert unused waste gas heat from time to time to the atmosphere.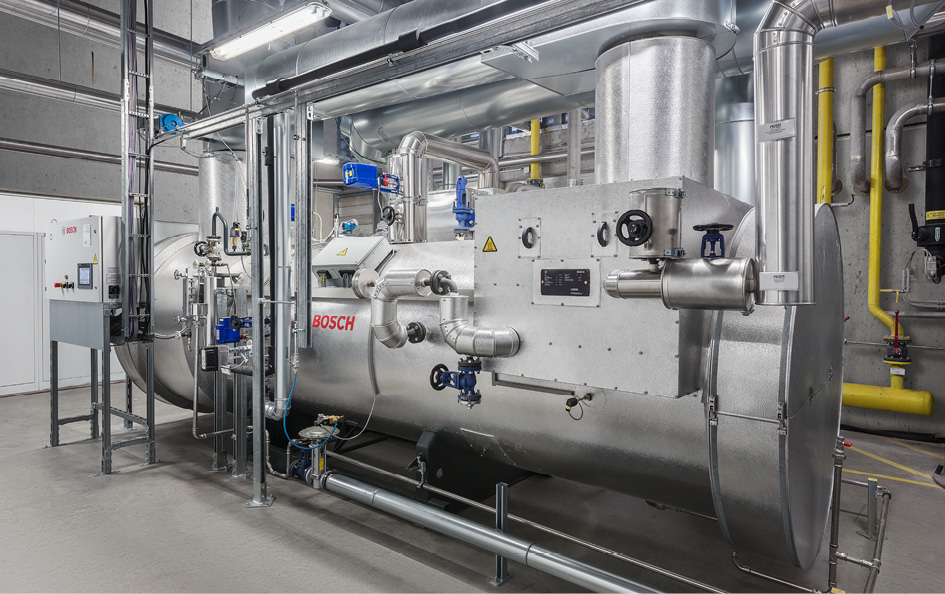 Bosch heat recovery boiler HRSB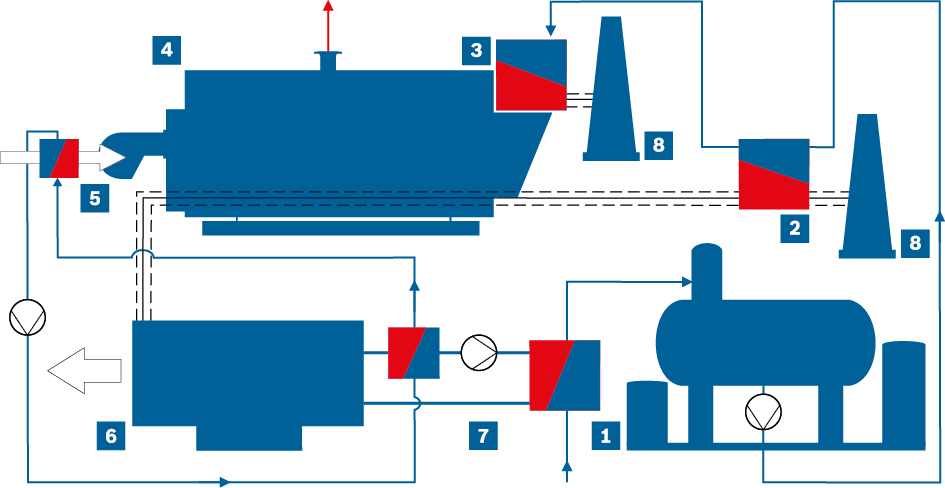 Example of the connection of a CHP unit to the process steam generation via an internally-fired shell steam boiler
| | | | | | | | |
| --- | --- | --- | --- | --- | --- | --- | --- |
| | Water service module WSM-V | | | 4-pass steam boiler | | | Engine cooling water |
| | Flue gas heat exchanger | | | Combustion air pre-heater | | | Chimney |
| | Economiser | | | CHP | | | |
Solar heat backup
If the make-up water demand of a steam boiler system is very high, it makes sense to use combinations with solar heat. Treated make up water can be preheated using solar energy. Additional energy is then fed to the steam generator to produce high-pressure saturated steam.
Given the right framework conditions, an economical and environmentally-clean supply of energy can be ensured with this type of system combination.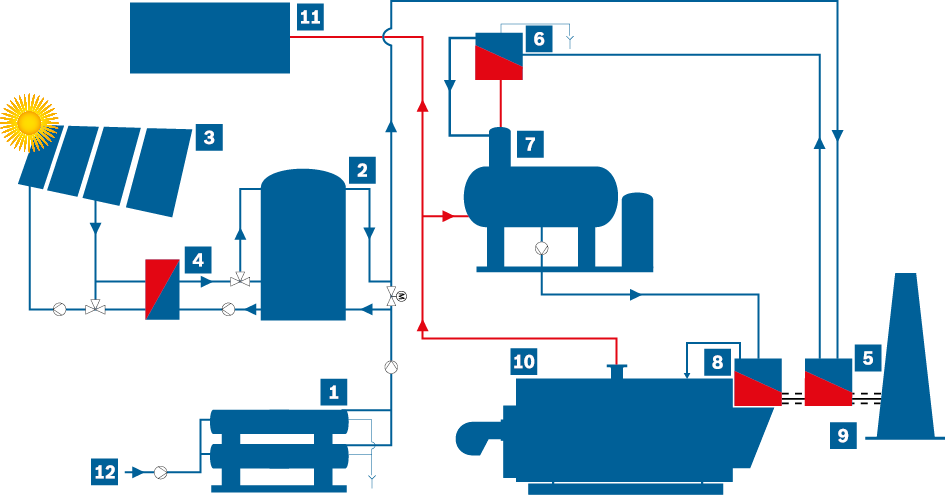 Example of the connection of a solar heat system to the process steam generation (highly simplified representation)
| | | | | | | | |
| --- | --- | --- | --- | --- | --- | --- | --- |
| | Osmosis system | | | Condensing heat exchanger ECO | | | Chimney |
| | Heat storage tank | | | Vapour cooler VC | | | Steam boiler UL-S |
| | Solar heat system | | | Water service module WSM-V | | | Consumer |
| | Heat exchanger | | | Economiser ECO | | | Freshwater |